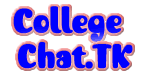 Chatrooms are open 24 hours a day



Most of our chatters come from in the USA, Aus, Uk, and Canada. We have a lot of chatters coming from other countries as well such as Asia, South American, and Europe. You will almost always find someone to chat with 24 hrs a day in one of our chat rooms. Snoopy's sports bar is one of our popular chat rooms along with our Anime Alive chat room, and our Pool Party room you will find along with our Aussie Dugout. You will be sure to find other college students and teen chatters at Collegechat.tk.




You may need a Java update
to get in the chat, thank you.

College Teen Chat Site
Welcome to our College Teen Chat Site. Meet other college students and young people. Discover onling chatting, you may make a new friend. It is wonderful to meet someone who may share the same views you may have, you may make a a long lasting friendship from someone who may not even live in your country. Online chatting is whole new world that some people are just discovering. fun chatting!
College Dating
A lot of college students now date just using chat sites, it may be one of the safest ways to chat with other college students. We are not alone there are new people that may become a friend or pen pal chatting here with college students from all over the world. There are a lot of nice and friendly chatters that visit our college teen chat. Our java chat is meant to be enjoyed. Please respect other chatters and chat mods that may be on. We do our best to clear the ban list at the end of the day. It is great that the Internet allows teens and students from all over the world to chat with each other, and make new friends. <3
Testimonials
" I like to chat here, everyone is nice and friendly. I have met many nice chatters here. :) "
Chat Room Safety
College chat is always a great way to meet other people who enjoy chatting, flirting, and talking. It is always nice when you get to meet someone you like talking to. Sometimes it is very exciting to meet someone in a online chat. You can never be too careful who you may be talking with, a chatter may say they are a girl when in fact you may be talking to a guy. They may even have a picture posted on a social media site such as Facebook, or Myspace. Sometimes people go to great efforts to hide who they really are. We have almost seen it all. There is also online law enforcement who are doing their best to keep chatters safe, you may have already spoken to one. Please think of your safety first, and be open to the possibility the other person may not be being truthful about who they are. Internet teen college dating, has taken off in a big way, and brought the world a lot closer. It is fun to chat and talk to others online. We are all in this world together. Sometimes a good conversation with another college student may help a person out. We can always use more good friends to help us get by, or help with learning. Peace. ~